Know the Annual Coal Consumption of your Power Plant...
KISPL serves you at every stage of Advisory and Execution Services.
From mine to plant, KISPL delivers peace of mind.....

Coal policy in India

Understand India's coal and import policy framework through these articles

Energy Source for Cement Kilns: KIS
KISPL meets coal quality specification for Cement Production

JANUARY 10, 2008, NEW DELHI The two basic processes in cement production are the wet and dry processes which are named after the manner in which the raw mix is introduced into the kiln. In the wet process the mix is introduced into the kiln as a slurry with 20-40% moisture. The mix is introduced dry into the kiln in the dry process. Dry process kilns are generally shorter because there is no need to evaporate the slurry moisture from the mix. Reduction of moisture content improves plant fuel efficiencies.

Cement production is very energy intensive involving both heat (clinker production) and electricity (grinding of feed and clinker). The most modern plants in operation today which use the dry process and have pre-calcination and pre-heaters consume around 80 kwh of electricity per tonne of clinker and 600 kcals of heat for each kg of clinker produced. Less modern dry process plants use up to 1100 kcals of heat/kg of clinker and older wet process plants can use up to 1700 kcals/kg of clinker produced.
Approximate coal consumption in cement plants
| | | | |
| --- | --- | --- | --- |
| Type of plant | HEAT REQUIRED KCAL/KG CLINKER | TONNES CLINKER PER TONE COAL* | TONNES COAL* PER 106 TONNES CLINKER |
| Most modern—dry process, pre-heating | 600 | 10.0 | 100,000 |
| Less Modern—dry process—semi dry process | 1100 | 5.5 | 180,000 |
| Least modern-wet process | 1700 | 3.5 | 280,000 |
*Calorific value = 6000 kcal/kg net as received basis.

Coal quality requirements
There are few limitations on coal quality for cement production, some are as follows:
| | | |
| --- | --- | --- |
| PARAMETER | LIMITS | COMMENTS |
| Total Moisture | Max. 15% (ar) | Creates handling problems if too high |
| Ash | Max. 25% (ad) | Generally little influence composition must suit kiln feed composition. |
| Volatile Matter | Virtually no limit (ad) | Best quality coking coals 20-35%. High volatile matter results in lower coke yield. |
| Calorific value | Various | Depends on grinding capacity and throughput |
| Sulphur | Max. 2% (ad) | Dry process. Limit less severe for wet process |
| Chlorine | Max. 0.1% (ad) | Dry process. Limit less severe for wet process. |
| Hardgrove grindability index | Various | Limit set by capacity of grinding equipment and CV of coal used. |
| Maximum size | Max. 30-50mm | Depending on grinding equipment. |
| Fines content (- 3mm) | Max. 25-30% | Creates handling problems if too high. |
Knowledge = Power…

Coal Basics

A picture is worth a thousand words.
Select a term from the list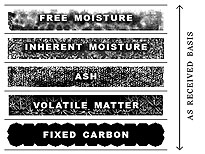 =coal that includes TOTAL MOISTURE, ASH, VOLATILE MATTER, and FIXED CARBON
Coal Conversions for Traders

Basic Conversion calculator

Word of the Day
ALKALI METALS Important elements in coal are sodium and potassium. They are undesirable in thermal coals because they can give rise to fouling and slagging problems in boilers, although small additions can improve electrostatic precipitation performance. They are undesirable in coking coals because they tend to increase coke reactivity in the blast furnace (see Coke reactivity)