Know the Annual Coal Consumption of your Power Plant...
KISPL serves you at every stage of Advisory and Execution Services.
From mine to plant, KISPL delivers peace of mind.....

Coal policy in India

Understand India's coal and import policy framework through these articles

Shipping Words for the Coal Miner
Choose a term and know more about it...

Knowledge = Power…

Coal Basics

A picture is worth a thousand words.
Select a term from the list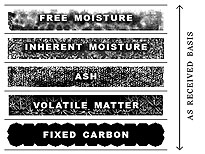 =coal that includes TOTAL MOISTURE, ASH, VOLATILE MATTER, and FIXED CARBON
Coal Conversions for Traders

Basic Conversion calculator

Word of the Day
Gieseler plastometer A coking test commonly used in Japan and the U.S.A. which measures the fluidity characteristics of coal. Fine coal (not pulverised) is heated slowly and as it melts and passes through its plastic range, its fluidity is measured. Results are expressed as maximum fluidity in dial divisions per minute (ddpm). Characteristic temperatures recorded are initial softening temperature, maximum fluidity temperature and re-solidification temperature. The plastic range, which is the temperature range during which the coal is in plastic state, is also important. All coking and caking tests are sensitive to oxidation but the Gieseler test is by far the most sensitive.
There are two types of Gieseler plastometers, automatic and manual. The manual equipment can give results which are significantly different to those obtained from automatic equipment.