Know the Annual Coal Consumption of your Power Plant...
KISPL serves you at every stage of Advisory and Execution Services.
From mine to plant, KISPL delivers peace of mind.....

Coal policy in India

Understand India's coal and import policy framework through these articles

Knowledge = Power…

Coal Basics

A picture is worth a thousand words.
Select a term from the list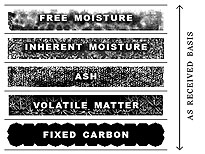 =coal that includes TOTAL MOISTURE, ASH, VOLATILE MATTER, and FIXED CARBON
Coal Conversions for Traders

Basic Conversion calculator

Word of the Day
Maceral analysis
Obtained by the microscopic examination of coal and is a volumetric distribution of macerals in a coal sample. Fine coal (not pulverised) is set into a small block of epoxy-type material and one face is polished. A number of different points on the polished face (usually at least 500) are examined by microscope and the maceral species observed are recorded. The maceral analysis is usually presented as percentages.
Maceral analysis is important because vitrinite and exinite are more reactive than the other species in coal in both combustion and coke making.