Know the Annual Coal Consumption of your Power Plant...
KISPL serves you at every stage of Advisory and Execution Services.
From mine to plant, KISPL delivers peace of mind.....

Coal policy in India

Understand India's coal and import policy framework through these articles

McCloskey Indian Coal Markets Conference 2009 - New Delhi India
09 SEPTEMBER 2009
INTERNATIONAL PRICES AND INDIAN IMPORT GROWTH
VIPIN MAHAJAN DIRECTOR
OVERVIEW
1.Steam Coal – Indian Coal Sector
2.Steam Coal – Imports into India
3.Impact of International Prices on Indian
4.Economy & Market Growth....
Knowledge = Power…

Coal Basics

A picture is worth a thousand words.
Select a term from the list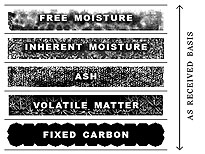 =coal that includes TOTAL MOISTURE, ASH, VOLATILE MATTER, and FIXED CARBON
Coal Conversions for Traders

Basic Conversion calculator

Word of the Day
Run-of-mine reserves (ROM) The quantity of coal potentially available to be delivered to a coal preparation facility or stockpile after mining. This is sometimes used synonymously with mineable reserves but will normally show an increase caused by extra unwanted material inevitably taken in mining and added surface moisture.